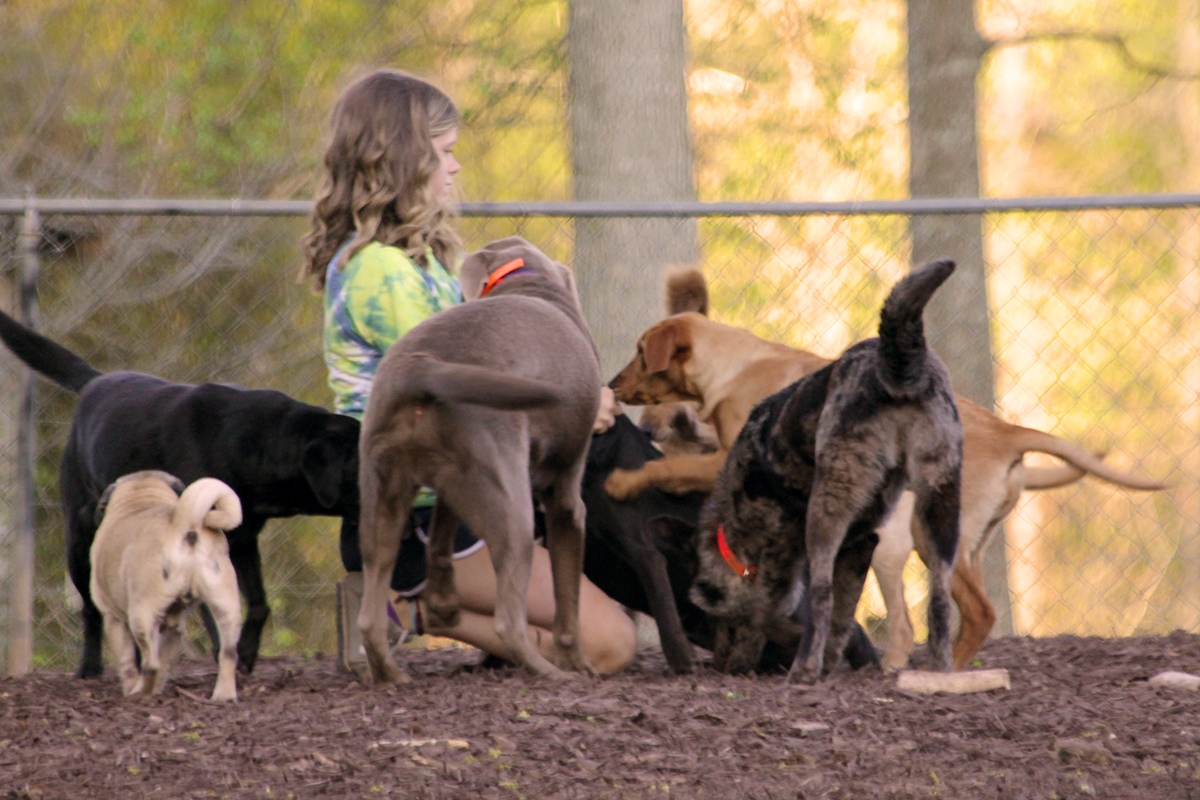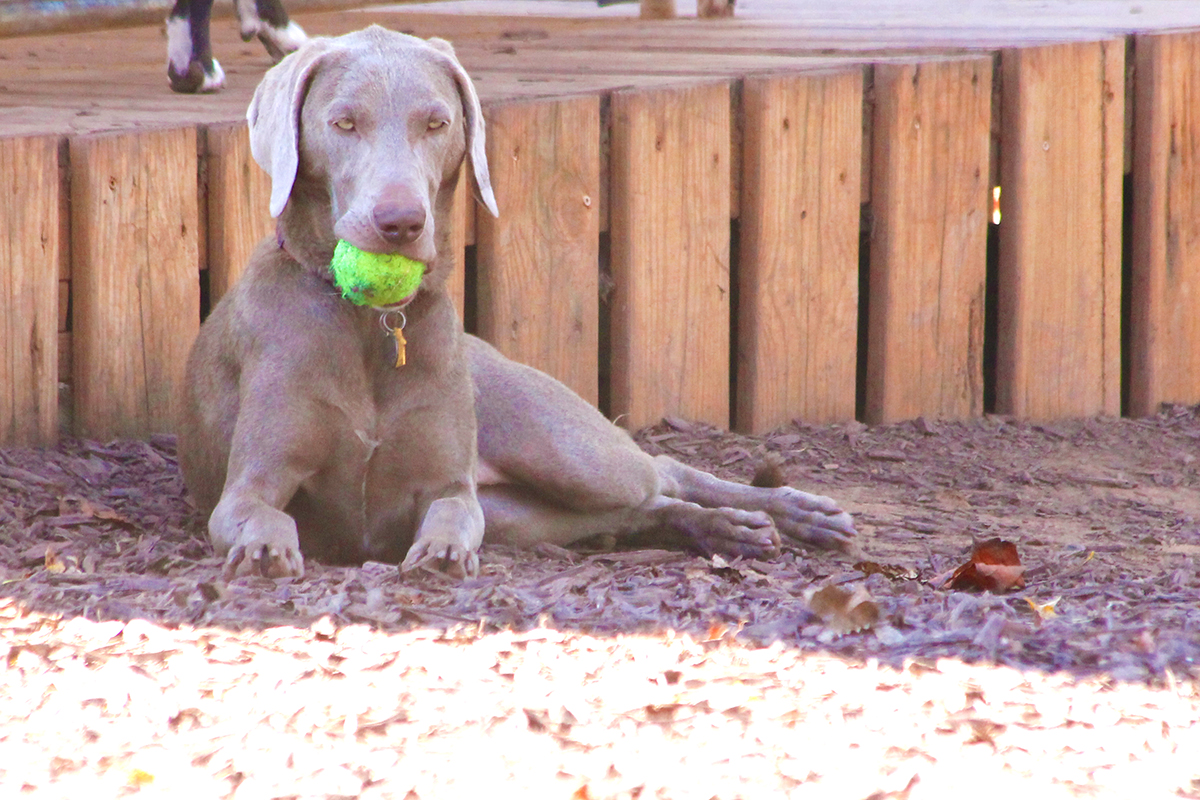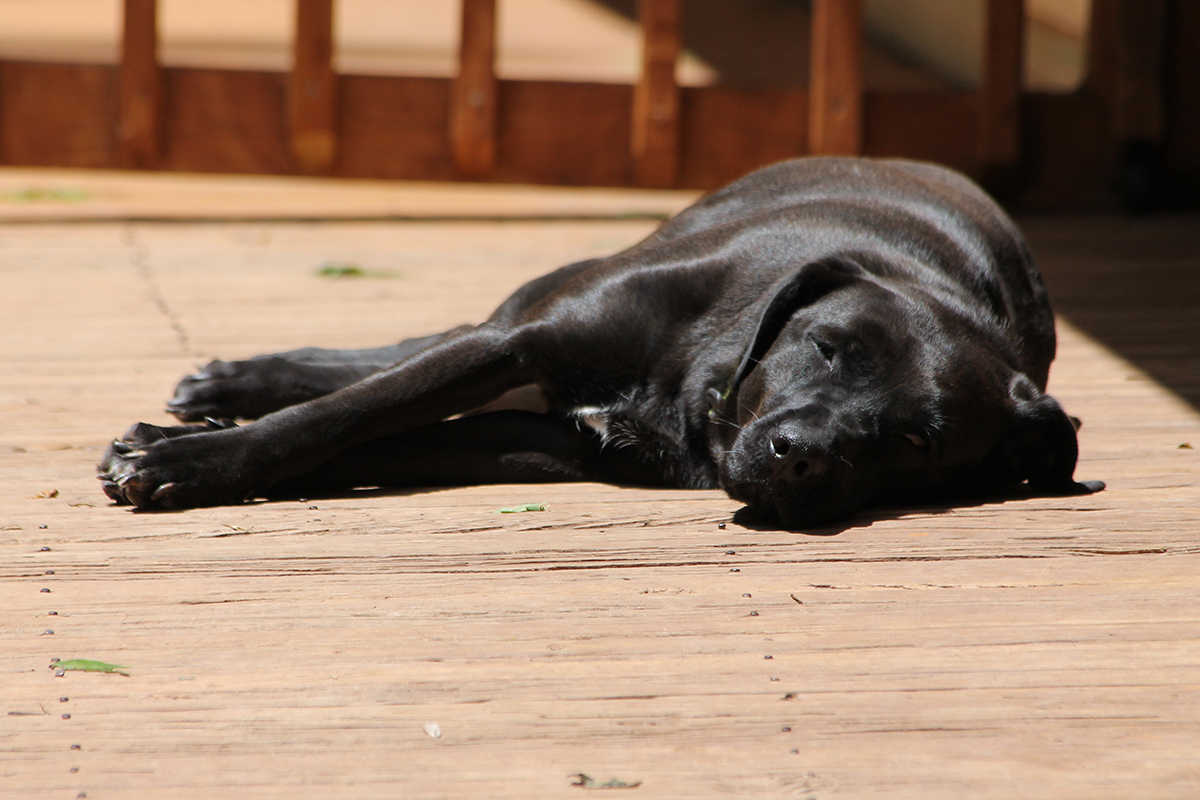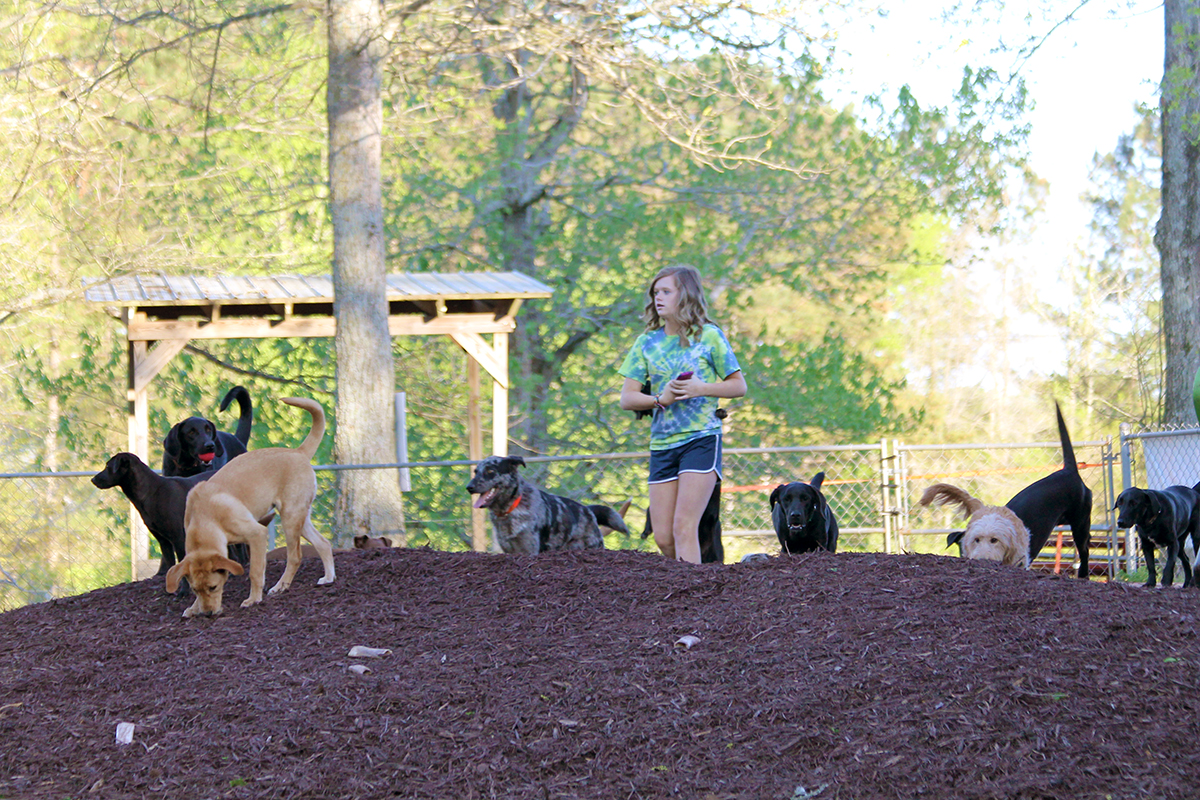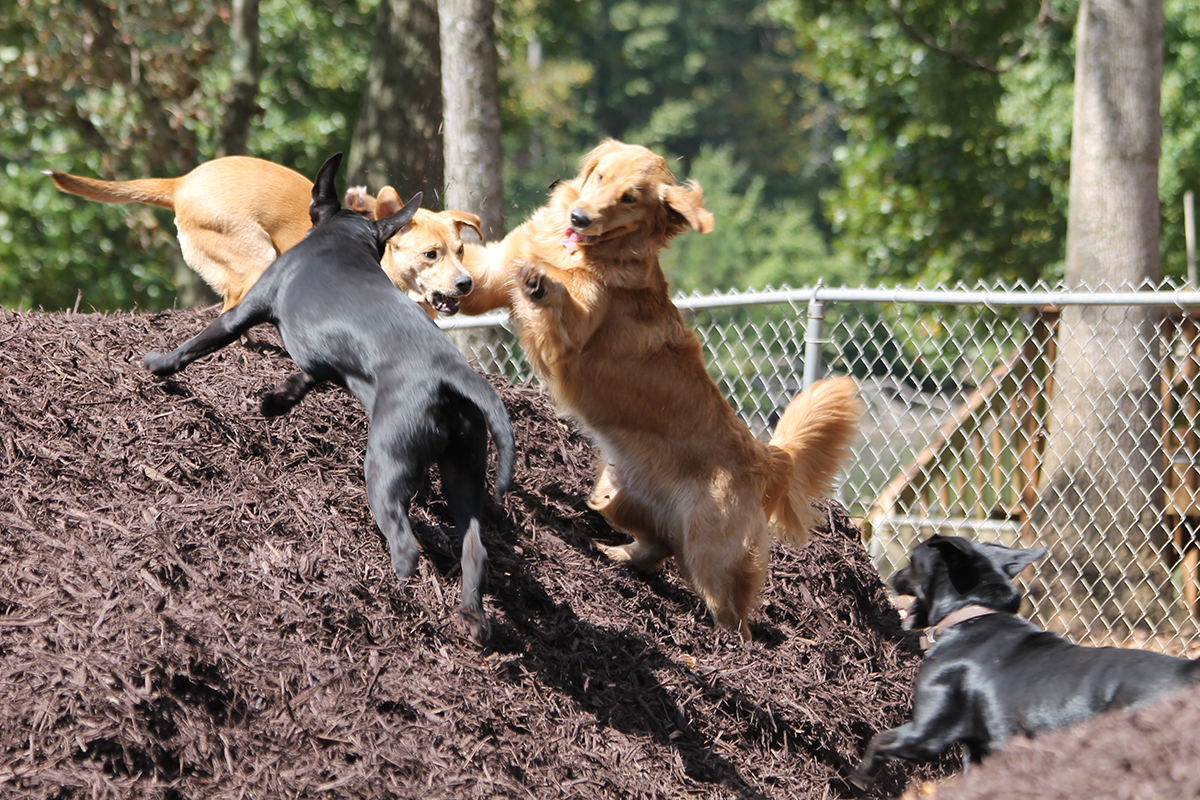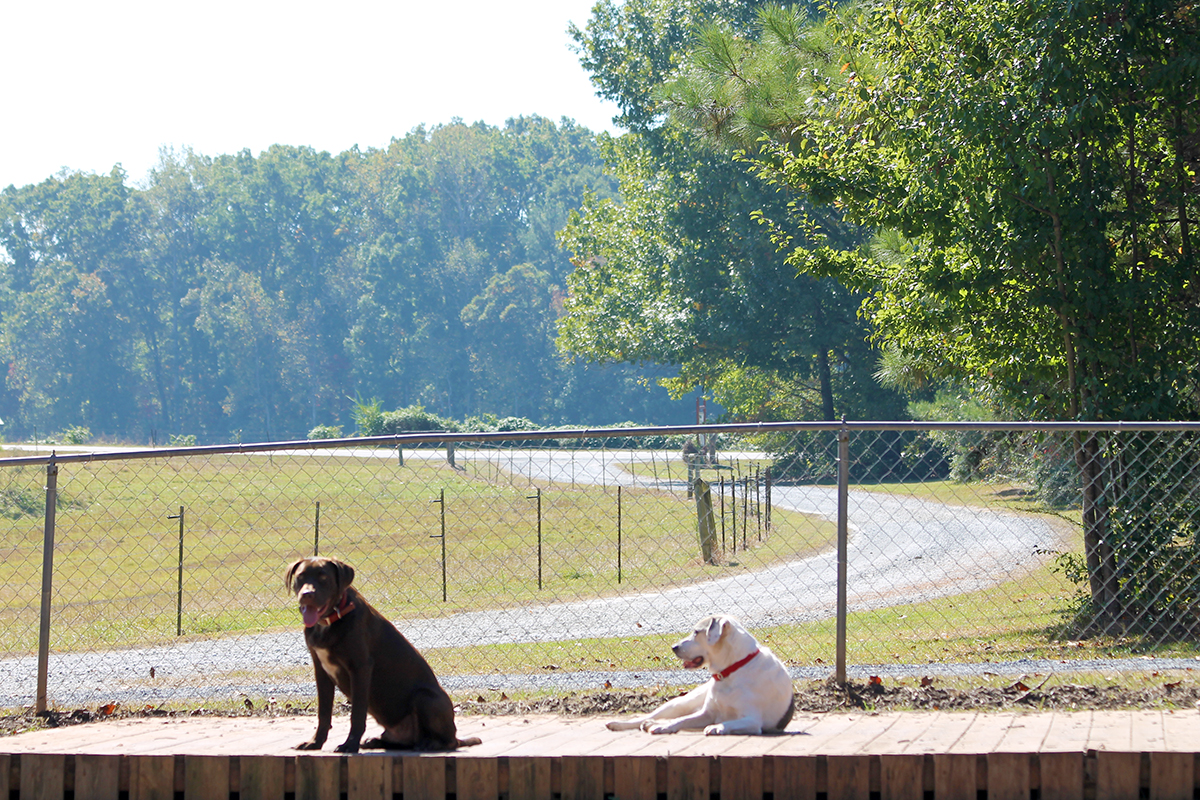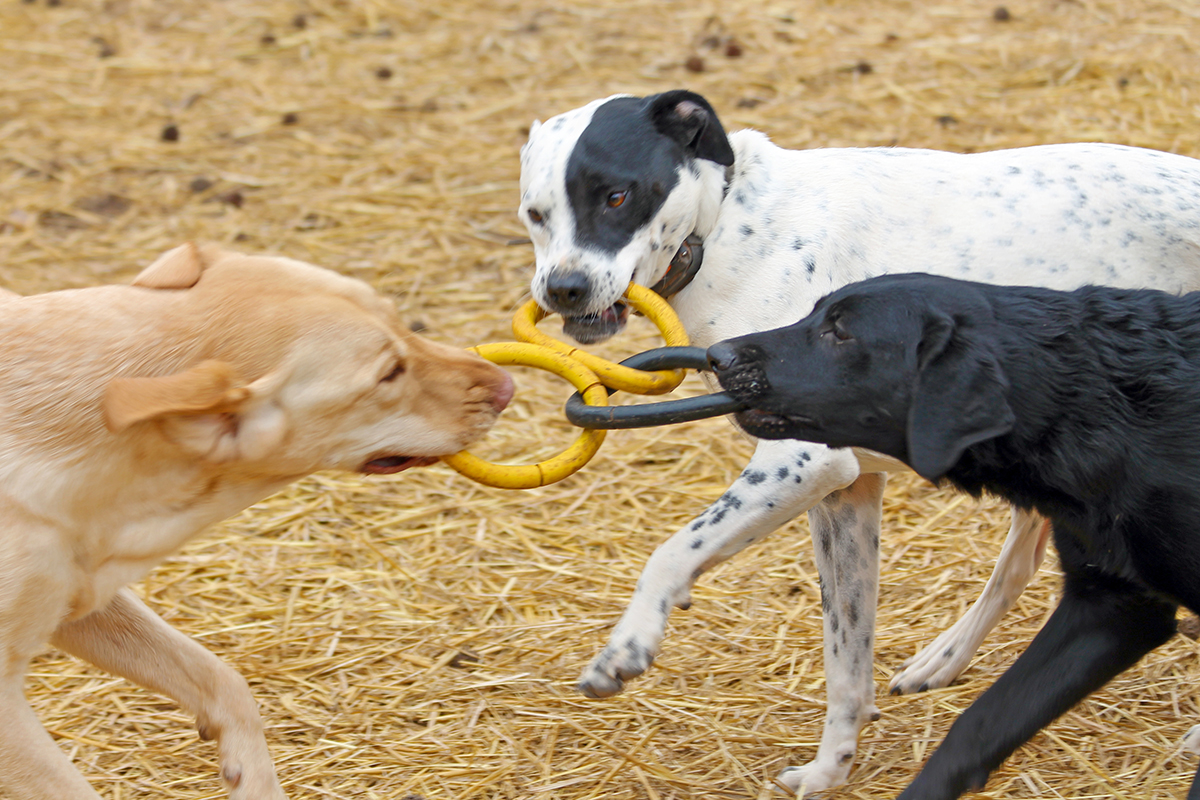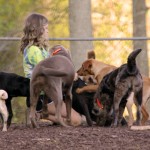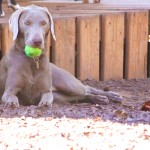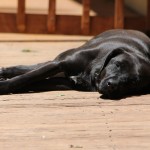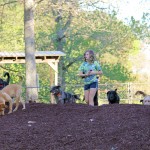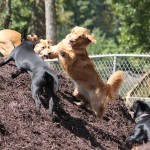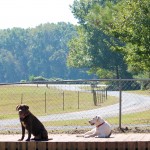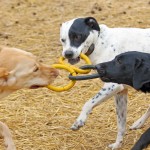 We provide boarding and training services that support our mission to save more dogs.
Our boarding services are offered in our home-based setting on a lake in West Georgia. We have large play yards and let the dogs run and play until they are ready for naps. If running and playing isn't their thing, we offer a porch, den and comfortable dogs beds to snooze the day away. With 24/7 supervision, experienced staff and customized care, your dog will be relaxed and happy with us!

WHEN YOUR DOG BOARDS HERE, IT WILL:
Sleep under the same roof as us
Eat its own food, provided by you, so that its stomach won't get upset with a new food
Run and play throughout the day with an appropriate group of like-minded companions (unless your dog prefers or needs solo time) under constant supervision
Be kept fresh and clean and have access to fresh, clean water at all times except when crated to nap or sleep
Be provided any toys, treats or bedding that you bring — just please make sure bedding is easily machine washable and make sure to put your dog's name on everything you bring (we provide bedding, if safe to do so, and toys for all dogs in our care even if you don't pack any for them)
Live in our house, with us, with 24/7 care and supervision
Be given the love, affection and attention it needs and deserves to keep it happy, healthy and comfortable
LIKE NOWHERE YOUR DOG'S BEEN BEFORE…
We LIVE here! There aren't many places that can say that. There are so many things that can happen when dogs are left alone when the average boarding facility closes for the evening — fire, inclement weather, illness or other distress.  And although we sleep peacefully through most nights, we occasionally are awoken by a dog that needs help and we are glad to get up and take care of it.
ALL dogs do well here! Why? Because we know how to take care of dogs of all shapes, sizes and needs. Older, geriatric dogs have their own spot in our home. Teacup and other tiny dogs have a special play area. Shy or nervous dogs are gently acclimated to the excitement and commotion of playtime. Boisterous and pushy dogs are controlled in a manner to keep them and other dogs safe. Everyone receives the attention and care they need to not only have a great time, but to stay safe, comfortable and relaxed.
We know what to look for! We can evaluate a dog's temperament, conditioning and other characteristics to manage their time here in their best interest. For example, overweight dogs will be given as much exercise as possible; but that exercise may be limited on hot, humid days to morning and evening hours. And at those times we would carefully monitor that dog. Dogs with orthopedic conditions, like hip dysplasia or other lameness, are monitored for discomfort. We let those dogs play as long as possible, but will remove them from playtime if they appear to be overdoing it. We will also administer any provided anti-inflammatories or recommend you consult your veterinarian or allow our veterinarian to administer them in some cases.
We KNOW dogs! Our playtime, sleep areas and kennel layout are all managed to provide your dog with the most peaceful, relaxed stay possible. We organize the dogs in the sleeping areas to provide them all with appropriate neighbors. We organize them into playgroups based on temperament and size. Some of the more geriatric groups might be better called 'wander around and get pet' groups. 🙂 Bottom line is that we group dogs together based on what we feel is the best experience for them, whether it's wide-open, high speed sprinting and chasing or loafing in the grass enjoying the sun and cool breeze.
We provide structure! Although many of the dogs that stay here are either trained or in training, we also board dogs that have not been through our training program. All dogs get some indirect training of sorts. For example, we make all dogs sit and wait to enter and exit gates and kennels. We also make them wait as we place their dinners. We require that they play safely — they are not allowed to try to grab legs at full sprint or barge into unsuspecting dogs at full speed. While these things may seem "cute" and "fun" at first glance, they are actually very unsafe play practice and can result in both injuries and fighting. We do not allow any dogs to bully (and we don't board aggressive dogs) and our environment allows more submissive dogs to open up and really have a great time. It is this structure that keeps all the dogs here safe and happy!
Your dog's comfort and safety are our primary concerns! We monitor your dog's attitude, health and activity levels and appetite to make sure they are happy, comfortable and relaxed. We monitor the weather daily and throughout the day. In the case of inclement weather, we'll re-organize playtimes and move dogs inside as the weather passes. Any dogs that require special care — extra or special feedings, staying inside all day because of age or physical condition, injections or medication, rehabilitation from recent surgeries, etc. — will be given that care as required. As a result, we occasionally must forgo personal time and activities; we will always make sure every dog here is comfortable and safe first!

THE DETAILS:
Five supersize play yards with lush grass, soft mulch or gravel.
A handful or outdoor pens for dogs that prefer and/or need to stay outside for nap or quiet time. Each pen is partially or fully covered, has a Kuranda bed, stainless steel water bucket and toys.
Sleeping at night in one of several rooms of our home — all climate controlled
Playtime supervised by knowledgeable, compassionate caretakers
Fresh, clean living, sleeping and play areas maintained throughout the day
Custom care for every dog's needs
Beautiful and peaceful environment, 2.4 acres on an 8-acre lake
Complimentary bath before pickup
Fully licensed and insured
WHAT TO BRING
Shot records (must be current on distemper/parvo, rabies and bordatella. Must also be on current flea/tick prevention and heartworm prevention. If not current on heartworm prevention, call or email to ask us why this is important and let's get your dog on track or back on track!)
Food (enough for the entire stay, in a bag or container of some sort)
Any toys or treats you'd like them to have
Any easily machine washable bedding
Any medications required during your dog's stay
Anything else you'd like your dog to have
Any special instructions in writing (preferably made in our booking system when you make your reservation)
**Please label everything you can with your or your dog's name. If you are bringing lots of goodies, it makes it easier for us if they are in a tote or container so that we can keep everything together.
Please review our Policies and Procedures

BOARDING RATES:
$26.50 per dog per day
(we do charge by the day, not night)
INCLUDES BATH BEFORE PICKUP
DISCOUNTS AVAILABLE:
5% off, up to a maximum of 15% off, for each of the following:
1) A stay of 7 days or more
2) Multiple dogs
3) Dogs that have completed our training programs
HOLIDAYS:
All federal holidays other than Christmas and New Years:
$4 additional per day, regardless of length of stay, the day before, of and after the holiday, no discounts apply
(any additional days outside the holiday would be eligible for discount above based on total length of stay)
Christmas & New Years:
$4 surcharge per day starting December 23rd through January 2nd, regardless of length of stay, no discounts apply
(any additional days would be eligible for discount above based on total length of stay)

We also offer our famous Off Leash Training Programs! If your dog is already with us boarding, it's a great time to start training. Not your typical pet store training, our program gives your dog the freedom and fun it needs to be an enjoyable companion and integral part of your life. It gives you peace of mind that you can enjoy your dog anywhere, anytime no matter what you're dong together! The centerpiece of our training program is reliable recall, which means you never again have to worry about left-open gates, slipped leashes or being able to enjoy a walk on the beach or hike in the mountains.